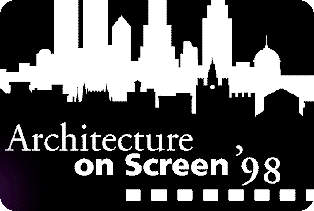 Screening Schedule/Film Descriptions


All screenings held at the Brooklyn Museum of Art, in the Iris and B. Gerald Cantor Auditorium, 3rd floor.

Friday, January 30


---
Welcome: Molly Seiler, Brooklyn Museum of Art; Nadine Covert, Program for Art on Film

10:00am Program 1: FUNCTION & FORM
Introduced by: Barry Bergdoll, Architectural historian, Columbia University

Charléty, un stade dans la ville (... A Stadium in the City) (Oliver Horn, France, 1996) The Charléty stadium, conceived by the father and son team of Henri and Bruno Gaudin, is a harmonious exercise in calculation and design. Located at the southernmost boundary of Paris, the 20,000-seat stadium, built for track-and-field and rugby, is an open arena around which a city has grown. Video. (26 min.)

Nemausus 1--Une HLM des Années 80 (Public Housing for the 80s) (Stan Neumann and Richard Copans, France, 1995) Jean Nouvel, architect of such buildings as the Institut du Monde Arabe in Paris and the Lyon Opera house, was commissioned in 1986 by the city of Nîmes, in southern France, to design 114 public housing units. Video. (26 min.)


---
12:00 noon Program 2: ARCHITECTS
Introduced by Robert Siegel, Architect

In Search of Clarity: the Architecture of Gwathmey Siegel (Murray Grigor, United States, 1995) Proponents of modernism, the architectural firm of Gwathmey Siegel has built an international reputation. Principals Charles Gwathmey and Robert H. Siegel discuss their work, their influences, and the strength of their partnership. Video. (45 min.)

A Vision Built: Zaha Hadid (Boris Penth, Germany, 1994) The architecture of Iraqi-born Zaha Hadid is characterized by expressive shapes and quirky perspectives. Hadid discusses her design process and the challenges of working in a male-dominated profession. Video. (43 min.)


---
2:00pm Program 3: CONTROVERSY AND DEBATE

Peter Eisenman: Making Architecture Move (Michael Blackwood, United States and Germany, 1995) American architect and theorist Peter Eisenman speaks about his work and his ideas of architecture which have fomented debate, as has his collaboration with third-generation German architect Albert Speer. Video. (56 min.)

Jørn Utzon: Clouds (Pi Michael, Denmark, 1994) The Sydney Opera House has become an international icon, yet its architect remains relatively obscure. This Danish television production explores the history of the building and the contre-temps that led to the resignation of its visionary architect, Jørn Utzon, before its completion. Video. (72 min.)


---
4:30pm Feature Presentation: TRAVELING WEST
Introduced by: Donna Goodman, architect and adjunct professor, Pratt Institute School of Architecture

Mary Jane Colter: House Made of Dawn (Karen A. Bartlett, United States, 1997) Mary Elizabeth Jane Colter (1869-1958) was chief architect and designer for the Fred Harvey Company and the Atchison, Topeka and Santa Fe Railway. A proponent of the Arts and Crafts philosophy, her designs for the Southwestern locations drew inspiration from Spanish and Native American forms and integrated each building to its natural and historical setting. Video. (90 min.) PREMIERE


---
6:00pm Reception

7:00pm THE GETTY CENTER
Introduced by Karl Katz, Muse Film & TV

Concert of Wills: Making the Getty Center (Susan Froemke/Bob Eisenhardt/Albert Maysles, United States, 1997) Follows, over a thirteen-year period, the conception, planning, and construction of the Getty Trust's new campus in Los Angeles. Documents the complex interactions among architect Richard Meier, Getty Museum director John Walsh, artist/garden designer Robert Irwin, and various Getty principals. Video. (100 min.) The filmmakers will be present.



Saturday, January 31 at The Brooklyn Museum of Art


---
Welcome: Anthony Caradonna, Chair, Undergraduate Architecture Dept., Pratt Institute

10:00am Program 4: COLOR AND LIGHT
Introduced by: John Lobell, author and Professor, Pratt Institute School of Architeture

The Walls of Mexico (El Mur y el muralismo) (Guido de Bruyn, Belgium, 1993) The wall compositions of Mexican architect Luis Barragan (1902-1988) play with color, structure, and light in ways that recall the murals of Rivera, Orozco, and Siqueiros. Video. (55 min.)

Louis Kahn: Silence and Light (Michael Blackwood, United States, 1995) An appreciation of the work of American architect Louis I. Kahn (1901-1974), showing his major structures. Includes interviews and commentary by Kahn. Video. (58 min.)


---
12:00 noon Program 5: ARCHITECTURAL VISIONS
Introduced by William Sloan, Museum of Modern Art

Two Impossible Films (Mark Lewis, Canada, 1995) Filmmaker Mark Lewis imagines the opening and closing credit sequences of two impossible films, set against the cityscape of Vancouver, British Columbia. A witty and satiric commentary on the increasing prominence of movie credits and on the role of Vancouver as urban double for other cities. 35mm. (28 min.)

Il Girasole: Una Casa Vicino a Verona (Christoph Schaub and Marcel Meili, Switzerland, 1995) In the early 1930s, Italian engineer Angelo Invernizzi designed and had built the Casa Girasole, near the city of Verona. Like the sunflower for which it is named, the house revolves on its axis, turning to follow the sun. 35mm. (17 min.) In Italian with French subtitles. English transcript provided.

Bitings and Other Effects (Clara van Gool, Netherlands, 1995) The bite of the tarantula spider causes pain and purportedly an irresistible urge to dance. The landscape and architecture of Palermo, Sicily, form a multidimensional stage set for an inventive tarantella, choreographed by Angelika Oei. 35mm. (30 min.)


---
2:00pm Program 6: OLD AND NEW

Guggenheim Museum Bilbao (Ultan Guilfoyle/Allison Lane, United States, 1997) Frank Gehry's design for the recently-opened Guggenheim Museum in Bilbao, Spain, has received international acclaim from critics and artists. Video. (10 min.)

Carlo Scarpa (Murray Grigor, Great Britain, 1996) Venetian-born Carlo Scarpa (1906-1978) was radical in his approach to remodelling historic buildings, showing tremendous confidence in combining the achievements of the past with the invention of his own designs. Video. (57 min.)


---
3:30pm Round Table Discussion: Architects and Filmmakers

Moderator: Suzanne Stephens, writer/critic
Participants:
Michael Blackwood, filmmaker
Bob Eisenhardt, filmmaker/architect
Charles Gwathmey, architect
Murray Grigor, filmmaker
Deyan Sudjic, critic/architectural historian


---
5:00pm Lecture: Ada Louise Huxtable , critic and author

Architecture critic Ada Louise Huxtable discusses her latest book, The Unreal America: Architecture and Illusion (New York: The New Press, 1997)


---
7:00pm Feature Presentation: "A Tour through the Whole Island of Great Britain"

Robinson in Space (Patrick Keiller, Great Britain, 1996) Keiller's fictional character, Robinson, an aesthete with an interest in economic geography, was introduced in a previous film, London.. The space alluded to in the title is the increasingly unknown space of present-day England, as the unseen Robinson-again accompanied by his sardonic researcher and traveling companion (the voice of actor Paul Scofield)-here embarks on an exploratory journey suggested by Daniel Defoe's 18th-century travel diary, Tour through the Whole Island of Great Britain. 35mm. (84 min.) U. S. PREMIERE


---

---
All materials and design of this Web site © 1985-2004 Program for Art on Film, Inc. All rights reserved. E-mail: Info@Artfilm.org